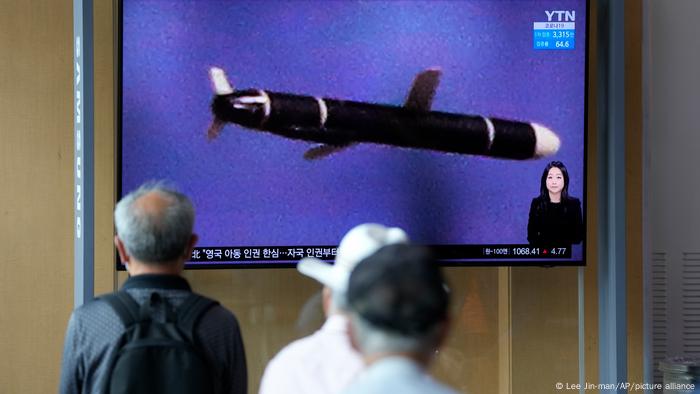 North Korea has fired a short-range missile from its east coast towards the sea, according to South Korea's military. Pyongyang's ambassador to the United Nations said no one could deny the country's right to self-defence and to test weapons.
This latest escalation raises alarms over the continuing development of North Korea's weapons systems, and the breakdown of negotiations aimed at dismantling the country's nuclear and ballistic missile arsenals in exchange for an easing of US sanctions.
The launch marks the third reported missile test conducted by North Korea in September 2021, after six-months of no reported testing. On September 15th, the country launched two ballistic missiles off the east coast, in violation of multiple UN Security Council resolutions banning the country from developing or testing ballistic missiles or nuclear devices. South Korea also test fired ballistic missiles on the same day.
It is unclear whether North Korea's most recent test on Tuesday September 28th involved a ballistic missile and violated UN resolutions, though Japan's defence ministry has said the projectile appeared to be a ballistic missile.
On September 13th 2021, Pyongyangs's state media, KCNA, announced it had successfully conducted tests of a long-range cruise missile, which flew 1,500 km (930 miles) before hitting its target and falling into the country's territorial waters. The missile is capable of hitting most of Japan and experts have said it could be capable of carrying a nuclear warhead.
North Korea's short-range and cruise missiles are not treated with as much alarm as the country's intercontinental ballistic missiles and the UN Security Council does not forbid their testing. Ballistic missiles are considered more threatening because they carry larger and more powerful payloads, have a much longer range, and can travel faster. The weapons are classified based on how far they can travel, and in recent years North Korea has tested an intercontinental ballistic missile (ICBM) capable of reaching all of Western Europe and approximately half of the US mainland.
The latest missile launch came three days after after Kim Yo-jong, the sister of Kim Jong-un, the North's leader, said that the country would consider holding a summit meeting with South Korea and declaring an official end to the Korean War if Seoul could restore trust with Pyongyang.
The South Korean military reported the latest missile launch right before Kim Song, Pyongyang's ambassador at the United Nations, called on the United State to end joint military exercises and withdraw their strategic weapons from around the Korean Peninsula. The country resumed short-range ballistic missile testing after negotiations with the Trump administration over the nuclear weapons programme and the lifting of sanctions collapsed in 2019.
Did you find this story interesting? Please support AOAV's work and donate.
Donate